Is Your Child in Trouble for Sexting?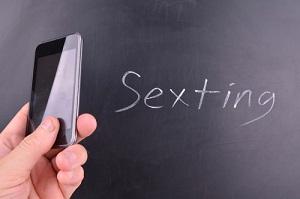 An ever-increasing number of preteens and teenagers in the United States are sexting. They have either sent or received nude or seminude photos in digital form. They may not think about the consequences down the line, or they may succumb to peer pressure and sext. In a recent survey of out of 350 students, 15 percent admittedly sent a sext to someone. The danger of sexting is that digital images are never really private. Anyone could accidentally share something with the click of a button. So what happens when minors sext minors? Could they also face criminal charges?
What Is Sexting?
Sexting means sending or requesting indecent visual depictions of a person's genitalia, buttocks, or breasts in a digital form which may include using a phone, laptop, tablet, or computer. It is referred to as a sext message.
Minors Sexting Minors
Sexting is often prosecuted under child pornography charges across the nation. If convicted, this can lead to serious legal consequences, and it could require the convicted person to register as a sex offender. However, when it comes to minors and sexting cases, some states, including Illinois, are a bit more lenient.
In sexting cases, reduced penalties may apply when both parties are under 18 years old. In Illinois, these teenagers are charged under juvenile supervision laws. This makes it possible for the minor not to have to register as a sex offender and avoid having this type of criminal record which could lead to grave consequences in the future. In cases where a minor is sexting another minor, the penalties are typically less harsh. For instance, if a minor disseminates an indecent visual image, the court may order the minor to go to counseling or perform community service. However, depending on the circumstances, the prosecution can choose to prosecute sexting by minors under harsher laws.
Caught Sexting With or Without Permission from the Sender or Receiver?
Sexting cases can be quite complex and for the person whose images are being disseminated, it can have a lasting impact. There are situations in which someone could be entitled to compensation when sexting involves the following:
Images are posted without the depicted person's permission
Recipients did not request the image
The recipient or the subject of the images suffered emotional distress
The context of image sharing established a reasonable expectation of privacy
Contact a Kane County Criminal Defense Lawyer
If your child is facing sexting charges you may not be quite sure what to do as you try to navigate the potential consequences. An experienced Elgin, IL criminal defense attorney can guide you through the process and help protect your child's rights. At The Law Office of Brian J. Mirandola, we have more than 20 years representing clients facing criminal charges. Call 847-488-0889 for a free consultation.
Sources:
https://www.ilga.gov/legislation/ilcs/documents/070504050K3-40.htm
https://www.usnews.com/news/health-news/articles/2022-12-07/1-in-10-teens-have-sexted-many-see-porn-by-6th-grade-study